esthechoc - Cambridge Beauty Chocolate -

A healthy outside starts from the inside.
SKIN CARE NOW COMES IN A DELICIOUS, DARK CHOCOLATE.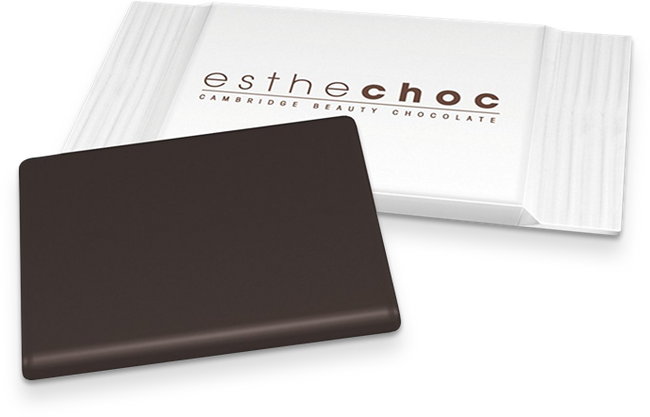 What is esthechoc?
Only 38 calories, a single piece of esthechoc each day helps to regain firmness, radiance and luminosity.
Food supplement in the form of 72.6% dark chocolate.

Scientifically proven support of skin metabolism.

Result of 10 years research by Cambridge Chocolate Technologies.

Impact of antioxidants enhanced by unique Astacelle technology.
Indulge in Functional
Beauty Chocolate
Vegan, gluten-free, rich dark chocolate (72.6%) enhanced with astaxanthin – one of the most powerful antioxidants known to science.
Learn More
Reviews for esthechoc
I can't say enough good things about these chocolates. Since I've been using them my skin seems clear and firmer. I have had several people comment that there's something different about me. I am hooked!
I started taking esthechoc about 6 weeks ago and I began seeing results after about a month. My skin is softer, less oily, and my wrinkles are less pronounced. And it tastes great!! Who wouldn't want to eat a delicious piece of chocolate every day if it truly helps your skin! And it's only 38 calories! LOVE LOVE LOVE esthechoc!
This product is incredible. After taking it now for several months, my friends continually comment on how great my skin looks. Highly recommended!
Get Younger looking skin in 3 weeks
3 Month Auto-Fill Plan*
Save $55
$165 for 3 boxes + 1 Free
1 box contains a 3-week supply of individually wrapped pieces.
*Multi-Month Plans automatically renew. You may cancel at any time. Sales tax applies to CO.
One-Time Purchase
$55 per box
1 box contains a 3-week supply of individually wrapped pieces.